Like many of you, we are closely monitoring the COVID-19 Coronavirus and its impact on our region. While this is a quickly evolving situation, we will work to provide up-to-date information, actionable intelligence and help employers adopt a prepared mindset to focus on the health of their business. Business is still open- below you'll find information from our community on the best way to support their restaurant, retail, and service based businesses, and to keep commerce thriving during this time. Finally, you'll find a non-profit assistance section, to help our communities continue to thrive.
Major Local Announcements
Governor Henry McMaster has extended the State of Emergency order an additional 15 days (beginning 4/27/2020). (WSPA)
Governor McMaster announced the creation of accelerateSC, a coordinated economic revitalization plan involving small & large business leaders, healthcare professionals, local government officals and education professionals. (WYFF)
A "home or work order" has been issued for the state of South Carolina through the conclusion of the emergency order or until otherwise lifted. (WLTX)
Gov. Henry McMaster announced that the state's income tax filing deadline had been extended to July 15. The decision mimics changes that were made at the federal level, which set the federal income tax filing due date to July 15. (FOX Carolina)
Governor Henry McMaster signed an emergency funding bill, giving $45 million to DHEC to help fund coronavirus relief in the state. (Independent Mail)
S.C. workers who are temporarily out of work due to the coronavirus are eligible for six weeks of unemployment pay from the state. Employers are required to apply for the program before employees can receive the benefits. (The State)
The City of Greer is closing it's parks and playgrounds due to the pandemic. It is also closing public access to city buildings and asking customers to contact staff electronically for assistance, effective Tuesday, 3/24. (City of Greer)
Cancelled local events: Eggtastic Easter Event (4/4), City of Greer International Festival (4/18)
Postponed events: Greater Greer Chamber of Commerce Pelham Medical Center 36th Annual Greer Family Fest (5/1-5/2). New Date: 8/14-8/15.
Phase 3 of the Stimulus Bill- the CARES Act passes. Find out how small businesses benefit here. (US Chamber of Commerce)
Key Federal & State Information
Tax Payment Postponement
Treasury Secretary Steven Mnuchin announced on Tuesday, March 17th that taxpayers can delay paying their income taxes on as much as $1 million in taxes owed for up to 90 days. Corporate filers would get the same length of time to pay amounts due on up to $10 million in taxes owed. https://home.treasury.gov/news/press-releases/sm948
Unemployment Insurance Information 
Click here for general questions related to the COVID-19 and Unemployment Insurance Benefits.
Click here for a quick reference of COVID-19 related UI scenarios.
Click here for a list of Frequently Asked Questions Regarding UI and COVID-19.
Federal Stimulus Package- Phase 3- "CARES" Act Summary of Agreement
Healthcare & Wellness Resources
As of March 20, 2020, Prisma Health System will not allow visitors in hospitals, Emergency Departments and/or outpatient facilities.
As of March 19, 2020 Spartanburg Regional Healthcare System has suspended visitation to all hospitals.
Prisma Health System offices are evaluating all previously scheduled appointments and surgeries. Each provider practice will proactively be contacting patients to determine if an in person visit or virtual visits are their best option. Prisma health system is encouraging new patients to schedule virtual visits for convenient care online, while practicing social distancing.
Prisma Health is offering a free virutal visit to individuals who think they may have been exposed to COVID-19 can get a free virtual visit for symptoms with promo code COVID-19.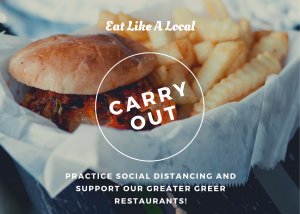 Business is still open- below you'll find information from our community on the best way to support their service based businesses, and to keep commerce thriving during this time. If your business or if you know of a service based business not on this list, please have them fill out our Business Is Still Open Survey
Greater Greer Non Profit Organzation Information
Click here for a list of Nonprofit organzations in the Greater Greer Community who need your help in these challenging times. Please consider helping your neighbors in need in the Greater Greer Community.
Click here for information on upstate restaurants providing food assistance for children who are no longer receiving meals through their K-12 schools (Kidding Around Greenville).
While many people are out of work, some companies are hiring during the coronavirus outbreak.
Here are the latest. Click on the blue links to learn more or apply.
We will continue to add to the list as we learn about more.